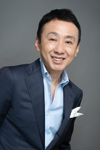 ヘアー&メイクアップ アーティスト
ビューティー・スペシャリスト
ブランド・アドバイザー
ヘアー&メイクアップアーティストとして、スーザン・ロックフェラー氏をはじめ、世界の要人・セレブリティーからも高い支持を受けている。また、広告・ファッションマガジン・コレクション・ステージ等を中心に、「WACOAL CHINA」の上海での広告撮影等、活躍の場を世界に広げている。
ビューティー・スペシャリストとして、国内外のコスメティック及び化粧品会社のための、ビューティー コンサルタント、ブランディング アドバイス、製品&パッケージ デザイン、ポスター及びカタログ デザイン製作、店舗ディスプレイ、講演、PR業務を行っている。
ブランド・アドバイザーとして、国内外のファッション ブランドのためのブランディング アドバイス、ポスター及びカタログデザイン製作、店舗ディスプレイ、ファッションショー プロデュース、ファッションイベント プロデュース、PR業務を行っている。

2018年 浅利慶太氏演出ミュージカル「李香蘭」再演 / 演出:浅利慶太、衣装:森英恵、作曲:三木たかし、ヘアー&メイクアップデザイン:水島裕作 / ポスターのヘアーメイクを撮りおろす。初演(1991年)よりヘアー&メイクアッププランニングを行っている。2017年「サイベックス ローンチ イベント」(シテ・ドゥ・タン・銀座)にてイベントプロデュース、及びグローバルのブランディング・アドバイザーを行う。2016年「東京富士美術館」にて講演。2015年 黒柳徹子氏を招いて雑誌「いきいき」にてスペシャル対談。2014年 宮本文昭氏の「宮本文昭の音楽、雑学、人生楽 / Music Bird(ラジオ番組)」にゲスト出演等、メディアでの活躍も行っている。
2013年、「MIZUSHIMA OFFICE」を設立。
詳しくは  >>
Hair & makeup artist 
Beauty specialist 
Brand advisor

Mizushima receives high acclaim from key figures and celebrities around the world such as Susan Rockefeller.
And he is expanding his work to international areas, mainly in various fashion-related fields such as advertising, fashion magazines, collections, and stage design, and is actively involved in creating publicity photos for Wacoal China in Shanghai.
Mizushima has experience in beauty consultant, branding advice, product and package design, poster and catalog design produce, store display, lecture and PR for cosmetic and cosmetic companies both domestic and international.
Mizushima is also involved in branding advise, poster and catalog design produce, store display, fashion show produce, fashion event produce and PR for fashion brand companies both domestic and international.
Mizushima did hair & makeup on the poster of repeat performance in the musical production of Ri Koran, by Asari Office in 2018, and he has participated as a hair & make-up planner from its first stage in 1991. Stage director: Keita Asari, Composer: Takashi Miki, Costume designer: Hamae Mori, Hair & Makeup designer: Yusaku Mizushima
Mizushima was the event producer for the CYBEX launch event, which was held at the Cite Du Temps Ginza hall, Nicolas G. Hayek Center, Tokyo, and did global branding advisor in 2017.
Mizushima gave a lecture as a guest for an event at the Tokyo Fuji Art Museum in 2016. 
Mizushima has appeared in various media, inviting Tetsuko Kuroyanagi for a special talk as a guest star in Iki-Iki magazine in 2015 and appearing as a guest on Fumiaki Miyamoto's FM radio program Music Bird in 2014.
He established the MIZUSHIMA OFFICE in 2013.